Farinata (Like Vegan Frittata)
This is a poshed up version of a traditional Mediterranean street food. It's a mixture between a tortilla (omelette) and a savoury pancake and lends itself to different additions and different meals – breakfast, lunch, supper. It's great cold as a kind of finger food and it's also cheap as chips!
Chickpea flour (also known as gram or besan flour) is inherently gluten-free and is widely available: World Food shelves in larger supermarket branches; Asian and other international grocers; health food shops. Brands to look out for include Dove's Farm, Sainsbury's, Elephant and Natco.
Here's a close up: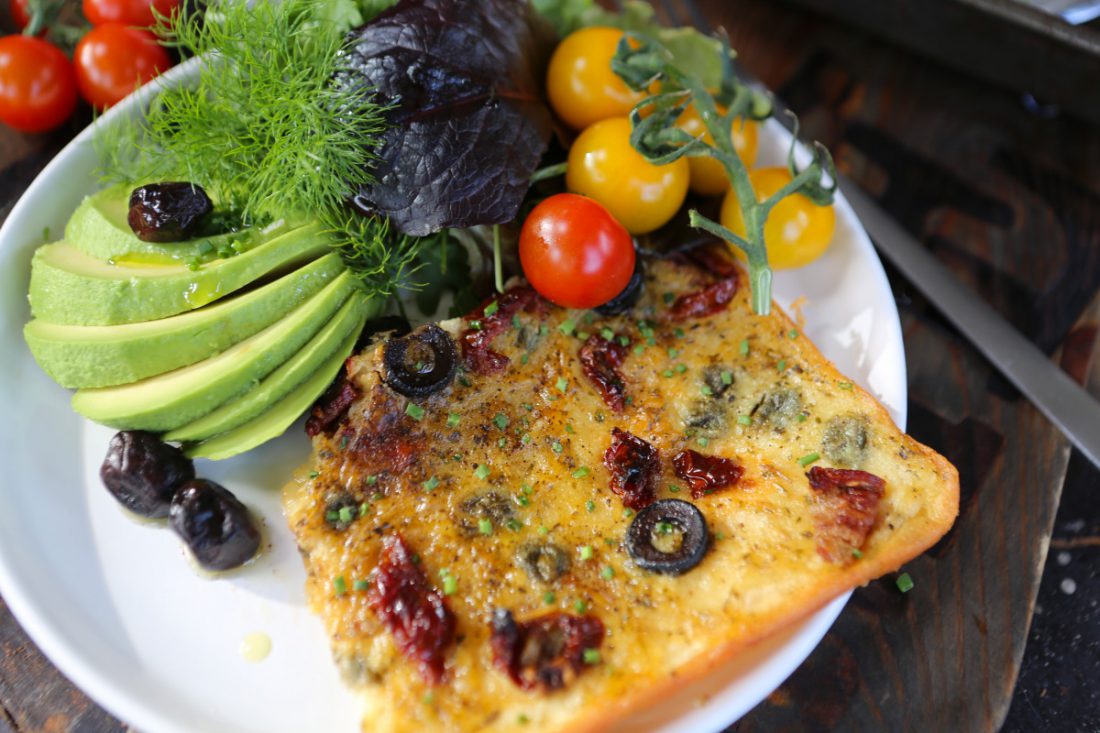 Not too tricky
Gluten free
Wheat free
Freezable
Cheap
Meal
mains
breakfasts
lunches
sides-light-meals-and-salads
Ingredients
Batter
200g/1⅔ cups chickpea/gram flour
500ml/2 cups warm water
2 tbsp olive oil
1-1½ tsp salt
Pinch black pepper
Filling
Around 5-6 whole artichoke hearts, sliced (tin or jar)
½ red onion finely sliced (optional)
12 whole sun dried tomatoes, roughly chopped
1-2 tbsp capers
About 12 pitted black olives, halved or sliced
Handful of chopped dill and 1 tbsp chives (or any fresh herbs of your choice), finely chopped
For a budget option, remove the artichokes and fresh herbs and use 1 tsp dried mixed herbs instead.
Instructions
Sieve the gram flour into a large mixing bowl and then pour in the warm water. Whisk thoroughly and then cover the bowl with a clean tea towel and set aside to ferment for a minimum of two hours but ideally overnight.
Preheat the oven to 210°C (fan)/410ºF/Gas Mark 6-7. You can be prepping the rest of the ingredients now if you wish.
When the batter is ready, remove any foam that has formed on top of the batter and then stir in the olive oil, salt, black pepper and fresh herbs.
Line the bottom of a baking tray (approx 15″ x 11″) with a good layer of olive oil so it forms a thin coating. Heat in the oven for a few minutes until smoking hot.
When the oil is hot enough, remove the tray from the oven and pour in the batter. Then add your filling ingredients so they are evenly distributed.
Bake in the oven until golden brown on top, approximately 15-20 minutes (don't overcook it or it will get rubbery).
Let it cool slightly then cut into triangles or squares and serve with a nice fresh salad.
Did you know that V7 is run by a charity?
We create vital resources to help educate everyone – vegan veterans, novices and the v-curious alike – about vegan food, health and nutrition; as well as the plight of farmed animals and the devastating environmental impact of farming.
Through this work we have helped thousands of people discover veganism; but we want to reach millions more! We rely entirely on donations as we don't get any government funding. If you already support us, thank you from the bottom of our hearts, you are really making a difference! Please share our details with your friends and loved ones too, as every donation enables us to keep fighting for change.